Lure of the Triangle is a most unusual motion picture. Complaints against adult motion pictures generally involve things like "Confusing Plots", "Boring Action", and "The Same Old Faces".

Lure of the Triangle has none of these problems. The entire motion picture was shot off the coast of Florida, in the beautiful waters of the Bermuda Triangle. Four young people venture off in search of the mysteries this sinister and strange place holds. What they discover is an underwater world which draws them into an erotic frenzy no one has ever filmed before.

Sexual encounters of the deep so incredible, so breathtaking, it will have your audiences coming back for more and more.

The underwater photography alone took 3 months and several hundred thousand dollars to film... .You'll believe it when you see it.

We suggest that where possible you play the trailer at least three weeks—the word of mouth this film generates will make Lure of the Triangle a solid box office smash for all of us.

For the Italian version of the poster, we're not sure why Traci Lords is pictured! The image is from New Wave Hookers.
Item Details:
1-Sheet 27x41 Folded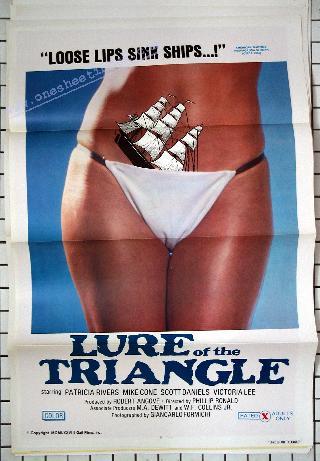 Member login required.