I, a Woman part II


1975 Gio Petre

Teaser Storyline for : I, A Woman Part 2

Sly Holm (GIO PETRE) is married to a handsome and cultivated antique dealer, Hans (LARS LUNDE), who is so obsessed with the beautiful artifacts in his possession that he refuses to sell them. The result is that Siv, whom Hans keeps at home and treats as if she were one of the beautiful antiques he collects, is forced to fend off the bill collectors who come to the door each day. Siv seeks the aid of her mother-in-law, Mrs. Hoim (HJORDIS PETTER-SON), who lives in the same building, but the older woman refuses to intercede in her son's affairs.
One of Hans' other interests is to photograph Siv in the nude. These photos, unknown to Sly, are shown by Hans to a wealthy customer, Svendsen (BERTEL LAURING), who yearns to possess Siv. Hans informs Svendsen that he can, for a price.
Hans informs Siv that he is inviting Svendsen to dine with them at home, and requests Sly to be as nice to him

as she can. The day of the dinner, Sly receives an attractive gown by messenger. The gown, made to be worn without underclothes, is extremely revealing and provocative. Hans comes home as Siv is trying on the gown, and tells her to wear it at dinner, despite her protest that it is too explicit.
Svendsen flirts with Siv during dinner, and dances with her afterwards, to the music of records played by Hans, who sits serenely, sipping his brandy as he watches them. Svendsen's passes turn into passionate caresses. Sly, realizing that Hans seems to be enjoying Svendsen's assault on her, lets herself go and starts to respond to Svendsen's advances. She and Svendsen end up on the sofa where they perform the act of passion, witnessed by the bemused Hans.
Later that evening, Siv, alone and crying in her bed, is brutally taken by Hans.
Siv continues to live with Hans, but now denies him any conjugal rights and refuses to see Svendsen again. She resumes her nursing career, and in the hospital where she is working, meets up again with Leo (KLAUS PAGH), a surgeon with whom she had an affair before her marriage.
Siv renews her sexual relationship with Leo, and she is enjoying every minute of it while her husband sinks deeper into perversity.
One night, a young woman, who attempted suicide, is brought to the hospital. She begins to tell Siv her life story, and of her former husband, whom the woman claims degraded her and made a prostitute out of her, To Siv's dismay, she learns that the woman is talking about Hans, and she is Hans' first wife.
Siv goes again to Mrs. Holm, and tells her the woman's story. Mrs. Holm at last admits that Hans is a beast who deserves to be killed, and offers to give Siv a gun with which to kill him. Sly refuses to take the gun, but she does take the key to a huge locked chest that Hans keeps in the apartment. In the chest, Mrs. HoIm tells Siv, contains the answer as to what kind of man Hans really is.
Siv opens the chest and takes out its contents. She then packs her things and waits for Hans to return home, to confront him with what she has found and to let him know how much she loathes him, before leaving him and his house of antiques forever.



Item Details:
Pressbook 9x16 single-sided folded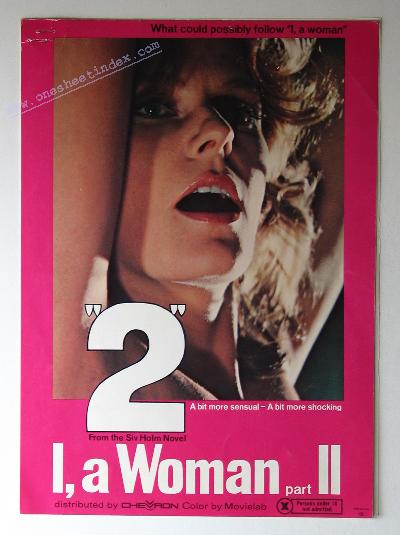 Member login required.