Director : maestro MASARU KONUMA (EX: Gappa, the Triphibian Monster , Wife to Be Sacrificed , Lustful Revenge , Beautiful Hunter , Hana to Hebi (1974) ... aka Flowers and Snakes , Sadistic and Masochistic (2000) ...) Cast : NAOMI TANI (ex: Masaru Konuma 'S Wife to Be Sacrificed , History of Women's Torture , Dan Oniroku nawa to hada , Female Convict 101: Sucks , Tatsumi Kumashiro 's Kurobara shoten , Zankoku: kurobara Lynch , Masaru Konuma 'S Flowers and Snakes , Madame O ....) , HIROKO FUJI , HIJIRI ABE etc...... NOVEL: ONIROKU DAN

A once-wealthy businessman finds himself in dire financial straits. To pay off his debts, he uses his beautiful, tango dancing wife Shizuko as currency. Now in the hands of a 95 year-old lecher known as "Showa Prince Of Darkness", Shizuko finds herself in the throes of sexual abuse and psychological torture.

This stunning and disturbing feature from writer/director Takashi Ishii ("Evil Dead Trap", "Angel Guts") is a nightmarish blend of fetishism and art.
Item Details:
b2 Japanese Hansai 20x28.5 single-sided rolled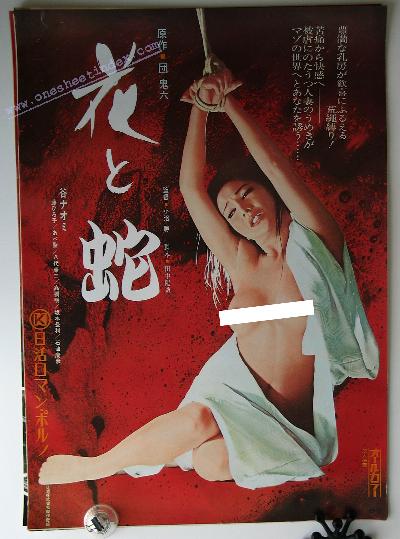 Member login required.