Within the past several years, encounter groups have become increasingly more popular. Perhaps one of the reasons for this is that individuals, subjected to the constant pressures of a techno-society, have at last admitted the de-humanization of this new super-industrial age. A collective mental breakdown has been eminent for years.

Encounter groups, in their attempt at collective analysis, have become characteristic of the age. No other society has planned, as we have, strategies for survival. These strategies, or encounter groups, if you will, demonstrate the desperate attempts for coping with tomorrow.

'Distortions of Sexuality' is a flow of situations involving seven young good looking people who have drawn themselves together for mutual understanding. Their problems are at times bizarre and sad, but each one strikes at the core of sexual distortion, as they relate the details and nature of their passions.

'Distortions of Sexuality' is a serious film. It deals with rape, voyeurism, chronic masturbation, hypnotism. The hard core sex scenes are explicit in detail, boldly conceived, and visually stunning. An intelligent film for mature audiences has finally been made that meets the standards of a perceptive audience.. .'Distortions of Sexuality'.


Item Details:
pressbook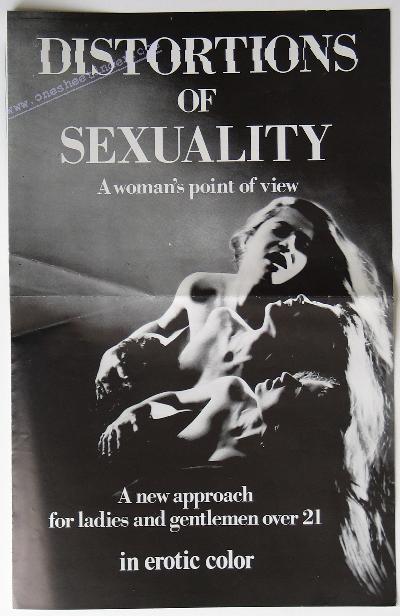 Member login required.