SYNOPSIS for Night of the Bloody Apes

Medical science has advanced at incredible speed. Organ transplants have become an accepted part of surgery.

What horror can an eminent physician create in a state of terrible mental stress?

Our film, based on an absolutely true and plausible occurrence, combines reality and imagination in offering some answers to these questions. answers against a background of the eternal struggle between science and divine will. What is more, this brilliant creation which positively has no precedent, combines the two elements that have always stirred both the animal and rational aspects of the human psyche: A being that is half man, half beast, all horror!

Our film, of course, contains some really daring scenes daring from the moral point of view, as well as, anatomically. And, every one of them is thoroughly justified by the theme.

Night of the Bloody Apes will make you see the hell man creates for himself by tampering with the forces of nature.




CAST

Armand Silva
Gina Moret
Norma Lazar
August Martin
Joe Elias
Noelia Noel
Carl Lopez
Gerard Zepeda


CREDITS

Written and Directed by ......... RENE CARDONA
Produced by ....................... WILLIAM CALDERON
Music by ....................... ANTON CONDE
Director of Photography .......... RAUL SOLARES
Edited by ....................... GEORGE BUSTOS



Running Time 83 Minutes
Click here for more
Item Details:
Pressbook 10x18 single-sided folded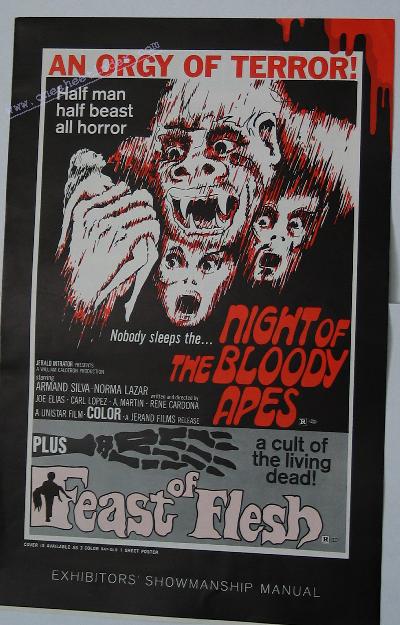 Member login required.